3 tags
Life Is A Social Media Event...
Getting ready to launch Malibu PR Gal… get ready for all things fabulous, funny and fashionable from the Bu!
: What Would Happen To Fashion Week? →
If you want to find me … here I am! Check out my new blog: malibuprgirl: Holiday season is upon us, Fashion Week has come and gone and Spring '13 couture collections ( soooo not impressed ) are scheduled to arrive on the door steps of many a Beverly Hills Mansion. So why does this Malibu P.R. Girl care about what happens to Fashion Week - which will most likely…
Smithsonian Magazine
It was a bittersweet summer… here is a brief synopsis in SMITHSONIAN MAGAZINE. rockandrevolutionpr: The Malibu Lagoon Restoration Project and The Real Malibu 411 are front and center in the latest issue of Smithsonian Magazine. Here are excerpts from the article:
: I'm With The Brand: Insta-BRAND with Instagram →
rockandrevolutionpr: Images are the key to the emotional connection between brand and consumers. Assuming you read the first and second post in the "I'm With The Brand Series", you should be rockin' a fancy profile pic and cover shot for Facebook, along with an amazing background gracing your Twitter.
It's An Indian Summer
therealmalibu90265: Summer came to close here in Malibu yesterday. However, the climate continues as we head into fall. With an Indian Summer among us - let's celebrate the sights, sounds and smells that will lead us through this season! Here's a collage of photos from around cyberspace mixed a little 90265 style. Enjoy!
: How Malibu Stores Their Surfboards →
therealmalibu90265: Locals love their waves and in order catch the perfect one, they gotta have their gear… Surfboards come in all shapes and sizes and storing them safely can leave some in a quandary. We came across some ingenious ways Malibuites store the key to a great 'sesh' ( translation: surf session -…
: You're A Rock Star - and you know it. →
rockandrevolutionpr: You started a brand because you had a great idea. Good for you. You had the balls to put everything on the line and you went for it. Plain and simple… You're a rock star. Now the social media world, a.k.a. your fans and followers want to see that too. This is a defining moment for you.
: I'm With The Brand →
rockandrevolutionpr: Welcome to the "I'm With The Brand" series Rock & Revolution P.R. has started to get your brand on the right track with social media in time for the 2012 Holiday Season! Lots of you may have Facebook, Twitter, Instagram, Tumblr, Pintrest etc… but are they increasing your traffic? Are you…
More Malibu Beauty...
coming soon to The Real Malibu 90265…
Endings and Beginnings...
The final farewell was said today to our friend who died recently… today would have been her 38th birthday. Steve and I reminisced about the Chumash Ceremony in my last post and while we burned sage to say good bye to her in peace, we look forward to our future together. Our mutual fave blog post is the wedding that Spell posted. We are keeping these images as our...
Indian Summer
At the beginning of the summer, I suffered the loss of a good friend. A tragedy that turned into a blessing and the beauty of love between myself and boyfriend Steve. The last service for our mutual friend was at the Wishtoyo Foundation, which is the Chumash Indian Tribe here in Malibu. The power of this service set the tone for the summer and led to my relationship with Steve only days after...
Malibu Mix & Match
shoprocknrev: Malibu style is famous for a mix and match of ethnic style… At Shop Rock & Rev, we carry an assortment of necklaces and colorful woven bracelets to give you too that boho beachy vibe.
: DIY VALENTINO STUDDED SUNGLASSES →
f21torunway: Were deep in the middle of summer and nothing completes an outfit, or a day at the beach quite like super chic shades. Our fave style this year at F21 To Runway is the Valentino "Tokyo Havana" studded sunglasses… At a retail of $285, they aren't totally sky high, however, we knew we could…
Hangin' at J.P.'s
What's so awesome about Malibu is not only the weather, but going to the Lumber Yard and hanging out James Perse style. That's where I was today with my gal pal Linda discussing social media for another resort lifestyle resort brand Best Collective.
WORD
rockandrevolutionpr:
Shop Rock & Rev
The shoprocknrev.com is finally coming together and we have our first product up and available for purchase! The R&R signature logo hat, already a fave among Malibu locals is yours to have at the click of a button! Get your Rock & Rev hat HERE.
If you're in my hood...
Come see Malibu UNPLUGGED at The Sunset Bar & Restaurant!
Got Me Some Klout
I got a notice in my inbox this morning  saying my Klout score is steadily rising…my influence over others in Malibu, hotels (?) and blogging…hooray! I am a little confused about the "hotels", but what the heck, I'll take it! Do you know what your Klout score is?
The Power of Vision and Inspiration
Before I met the Brit, I created this vision book and the relationship page with pics of very handsome man that embodied the look and spirit of the man I wanted to marry someday. I also added a pic of a gal with a similar look to me and sent my intentions to the universe… Were not married… but we are committed … and here we are… kinda crazy right?  Set your...
Batty
My bf, aka the Brit, plays Cricket. he left on a business trip today and left his cricket bat promptly displayed in case I need to WHACK something ( or one ). That's LOVE. The bf in his cricket gear after hours of play… I love me some sexy, dirty British!
Pesto and Pasta
The Brit recently introduced me to whole wheat pasta. I have to admit, I actually like it better than traditional pasta. Now I am going to take it a step further and make some homemade pesto with this recipe from The Gracious Pantry. Mange!
Beachy Keen J.P.
James Perse always has the perfect Malibu vibe down… Loving all the newness chez James…
Oh Isabel...
MAXFIELD MALIBU does Marrakesh. Or actually, Marant. Voila the latest amazing window, a treat every month, courtesy of the uber chic Maxfield empire. I want to take a magic carpet ride…
Park Me At The Parker
Or I'm parkin that style at my house! This is so the vibe I am going for in my new place. The bright, punchy colors, the vintage vibe… and a little exotic thrown in to the mix. I hear the Rose Bowl calling my name… maybe screaming it? I couldn't think of a better place to score similar pieces to this stylin' space!
Tom Binns X Forever 21 DIY coming soon...
I'm taking on Tom Binns soon.  My Forever 21 rhinestone necklaces need a tune up… This is just the beginning!
Decor and more...
Super excited about all the decor projects coming soon at cecestein.com I'll give you plenty to keep you occupied all summer long!
Bitches Givin' You Grief?
Then dial up the St. Michael candle. by a few of them for that matter… He'll keep the hoes at bay and calm will be restored!
What's On Your Bedside Table?
I admit, I was quite the absent blogger lately, but it was only out of pure decorating exhaustion. I moved in to my new place in Malibu - just down the street fom the old pad and I am taking on a whole new vibe… Before… Now we are movin' on to the after… Bedside tables are important. So important they were the first pieces I finished in my new home. When the bf, aka...
The View From Here...
There is a damn good reason why I live in Malibu. No matter where you are, the view is always amazing. I shot this just a few days ago from my front porch. Little did I know ( thanks Linda! ) that this very picture was eerily reminiscent of the Hotel California days of my youth… 2012… February 1977…
Obsessively Compulsive About....
My super creative compadre Cindy Whitehead and her new blog It's Not About Pretty. Couldn't have said it better myself!
4 tags
EVE6 VICTORIA
A HUGE shout out and major congrats to the rock band EVE6 on the successful debut of their new song VICTORIA!  Celeb blogstar Perez Hilton gave the boys and their first song off their new album SPEAK IN CODE ( due out April 24th ) a five star review! I had the pleasure of shooting with EVE6 in Malibu with photographer Joe Nash and the Rock & Rev crew. Check out the video below!
DIY BALMAIN SS/2012 RHINESTONE APPLIQUE BOOTS
Here it is! The first runway DIY for Make It… Malibu ( and soon to be part of our F21 To Runway series ). Voila! The Balmain bootie on the runway…. and the F21 To Runway finished bootie… which is a step up in the glam department. We live in Malibu and wanted a little more of a bohemian touch to the design which fits our rock and roll, yet beachy  lifestyle.  ...
Balmain DIY in progress...
Rock n Rolla! - The question is : Who hasn't seen these amazing short rhinestone boots on the Balmain runway for spring 2012?! I about fell over when I did knowing I just purchased a pair of black shorties similar to these at Forever 21 recently ( grab them here ) … I believe you can still get them online. Now I finally got around to tackling my version of these rock...
Cutie Pie...
Tales of my first weekend single after Season One on Mission:Real Man.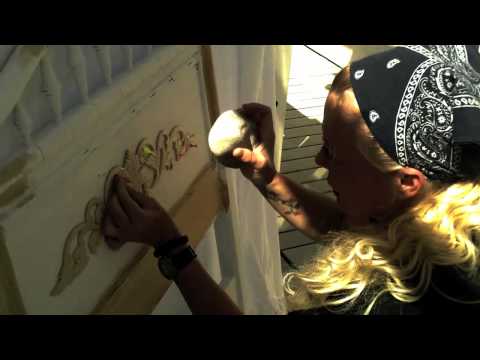 Distressed Bed Frame - Make It ... MALIBU
Malibu style is all about the beachy vibe. Although I tend to go toward dark woods and mix it with white slipcovers, for this distressed bedrame, the first DIY video of our Make It … MALIBU series, I ended up with a sandy color by accident and luckily it went perfect with my birch colored modern IKEA MALM furniture. I bought this bed frame off of Craigslist… The I jammed to my...